We are so pleased to learn that From Restless to Reconciled and Four Faces of a Leader have been selected by the Office of the President of Evangel University to be presented to all of their ministry graduates at the next Anointing Service held in conjunction with commencement activities. The President's Box of Books is a final gift of blessing and is given to the students after the faculty has laid their hands on them and anointed them with oil for ministry around the world.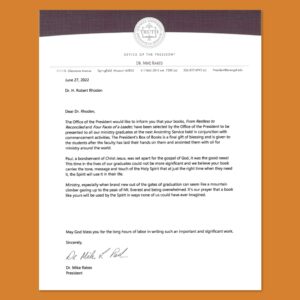 Dr. Mike Rakes wrote, "May God Bless you for the long hours of labor in writing such an important and significant work."
110 copies of each book are on their way to Evangel University to be included in the President's Box of Books! 
For bulk order inquiries, please contact us.